Welcome to Labrador Metal Works
Industry Leader in Custom Steel Fabrication and Machining
Click links below to find out more on our history, products and services!
ABOUT US
Labrador Metal Works (LMW) is a full service steel fabrication company with facilities in Wabush, NF and Bathurst, NB. LMW is also the only Parker Hose and Fittings distributor in the Labrador and Northern Quebec region. LMW has been providing quality steel fabricated products, heavy equipment and hyraulic repairs, hose and fitting sales, and transportation services in Atlantic Canada and Quebec for over 30 years. LMW's reputation for never compromising on quality and service has forged strong relationships with its customers. Their highly trained bilingual staff is dedicated to continually exceeding customer's expectations by providing the highest standards in workmanship and timeliness, all while performing each task as safely as possible.
Labrador Metal Works is proud to be a part of the Canerector group of companies. With ownership from one of the most successful fabrication companies in Canada, LMW has the financial strength and resources to take on any project.
Company Highlights:
– Bathurst operation started in 1976. Company moved from its original location to a new facility located in the Bathurst Industrial Park in 2009.
– Labrador operation started in 1997. In 2008 the company underwent major upgrades in equipment, increased crane capacity, and an expanded paint facility.
– LMW has been providing weekly transportation services from New Brunswick to Labrador/Northern Quebec for over six years.
– LMW has some of the most state of the art fabrication equipment, including a 500T CNC press brake, high definition plasma table, 1″x10′ plate roll, ironworkers, OH cranes, band saws, line boring, and a full service machine shop. In 2014, the Bathurst facility added a new 20'x24′ indoor blast room c/w recovery system to it's already impressive list of equipment.
– LMW is very proud to have generously sponsored kid's sports, minor hockey, athletics and local volunteer centers in the communities in which they work.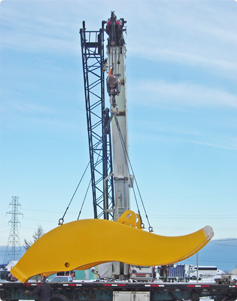 Services | Custom Fabrication & Machining
One of LMW's main focus is on the custom and structural steel fabrication. In addition to working with engineer supplied drawings, LMW has also built a reputation for working closely with customers to come up with solutions to unique problems. One of LMW's core competencies is its ability to start with a site visit to examine customer's needs, provide design solutions, professional drawings, and steel fabricated products of the highest quality available.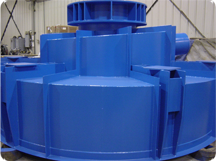 Tanks
Tanks and pump boxes of any size and complexity. Rubber lining also available. Tank shown is over 14′ in diameter.
Machining
Full service machine shop including line boring.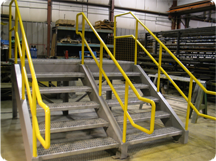 Custom Stairs
Stairs design, drafting and detailing of any type of stair system, both industrial and commercial.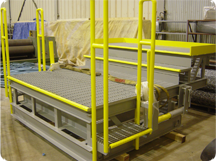 Rolling Platform
Unique custom fabrication of rolling platforms used in mining applications.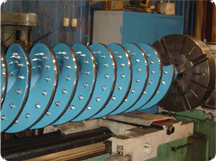 Screw Conveyors
Triple start screw conveyors. Fabrication of new conveyors as well as repairs of used conveyors.
Stainless Steel Fabrication
Stainless steel fabrication of all sizes and complexity. Passivation of stainless products also performed at LMW. Stainless steel mixing launders shown.
Distributor Tanks
Distributor tanks of all types are offered. All mechanical components are fabricated at LMW and tested in-house before delivering to site.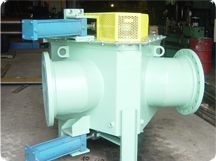 Ceramic Lined Diverter Boxes
ceramic lined diverter boxes c/w hydraulics and equipment guards.
Wear Plate Lined Flop Gates
Hoppers, chutes and moveable gates lined with steel wear plates (hardox, chrome carbide, abreco)
Structural Steel Fabrication
Structural steel design, detailing, and fabrication.
Services | Heavy Equipment Repair
From minor crack repairs to complete rebuilds to modifications to existing equipment – LMW offers a wide range of repair services. After testing the damaged or worn equipment, LMW's experienced staff of engineers and technicians can offer reasonable solutions and accurate pricing to its customers. Continuous NDE reporting and progress updates during the repair process are also available depending on customer requirements.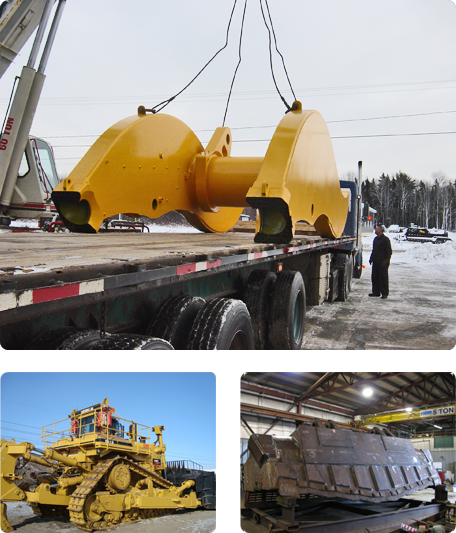 Shovel 'Stick' Repairs
Crack repairs and 'rack' change out on worn shovel stick (45Ton)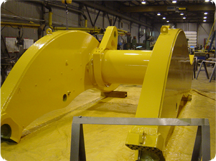 LeTourneau Loader Boom Repairs
Crack repairs, torque tube replacement, grease line testing, line boring, and bushing replacement.
Addition of safety walkways and Rails to existing equipment
Design, detailing, and fabrication of new walkway and rail systems to meet customer's specific site safety requirements.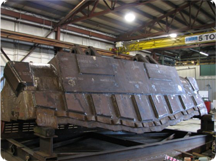 Bucket Rebuilds
Crack repairs, line boring, and bushing replacement, hardox wear plate replacement.
Services | Parker Hose and Fittings
Parker is the global leader in hose and fitting manufacturing and also boasts the widest product range in the industry. Parker hoses are manufactured to meet or exceed any industrial specification requirements.
LMW is the only Parker Hose and Fitting distributor located in the Labrador and Northern Quebec region. LMW is proud to have offered 24/7 service to its customers for over 15 years.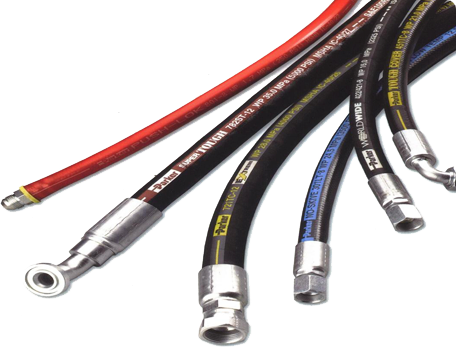 Canadian Welding Bureau certification: CSA Std 47.1 Div 2
LMW is a certified CWB W47.1 Division 2 company with experienced welding supervisors on staff. CWB standards ensure customers that proper welding procedures covering all types of joints, processes and positions are being used at our facilities. The certification also gives assurance to our customers that weld quality and workmanship are up the levels specified by the design or product standards.
Quality control: ISO 9001
ISO 9001:2008 sets out the criteria for a quality management system. The standard is based on a number of quality management principles including a strong customer focus, the motivation and implication of top management, the process approach and continual improvement. Using ISO 9001:2008 helps ensure that customers get consistent, good quality products and services.
The Bathurst facility has been a registered ISO 9002 company for over 15 years. A recent upgrade to ISO 9001:2008 is underway now and will be fully implemented and audited within the next few months.
Copies of the ISO 9001 Quality Manual available upon request.
LMW has two main facilities – one located in Wabush, NF, and the other located in Bathurst, NB. Both shops offer a full range of steel fabrication, welding, and heavy equipment repair services. The Wabush facility is also the regions only Parker Hose and Fitting distributor – the 'Parker Store'. Both shops have a highly trained staff of engineers, technicians, fabricators, welders, and mechanics on hand to meet customer's demands. Service is availabe in both French and English at both locations.
Email: To contact us via e-mail please use one of the addresses below
• President & General Manager – Dominic Bergeron – dbergeron@labmw.ca
• Field & Shop Coordinator – Pierre-Olivier Laurin polaurin@savico.com
Phone: 514-889-6278
• Sales & RFQ – sales@labmw.ca
Labrador Facility
11 Second Avenue
Wabush, Newfoundland and Labrador
Canada
A0R 1B0
Office: (514) 889-6278
Wabush, Newfoundland
LMW's Wabush, NF production facility is 20,000 sqft and is located in the Wabush Industrial Park.
60 TON+ LIFTING CAPACITY!
Bathurst Facility
2030 Industrial Ave.
Bathurst, New Brunswick
Canada
E2A 4W7
Office: (506) 548-4479
Bathurst, New Brunswick
LMW's Bathurst, NB production facility is over 20,000 sqft and is located in the Bathurst Industrial Park.